Report on March 2012 Mio, Michigan Seminar
The March seminar in Mio was a wonderful, powerful, God-filled experience.  And, miraculously, the weather was like summer!  Twelve Leadership Essential students and one Doctrinal student graduated. (See picture below).
We also learned that the Washington monument is the most popular national memorial when building paper replicas and that you must be careful where you sit in the Mio Church of God auditorium.
Next Michigan seminar is in Flint, October 26-27.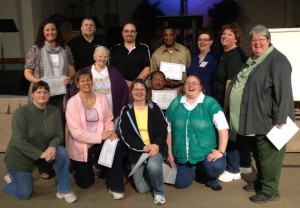 March 2012 Mio, Michigan graduates

"We sent 9 members of our Leadership Team to the ISL Leadership Essentials track. This made a huge impact on the team members and how we functioned as a team. Every church should invest in training their leadership. I highly recommend ISL." - Amy Worline, PA